LaTourell's Ideal Lakeside Base Location
Our Location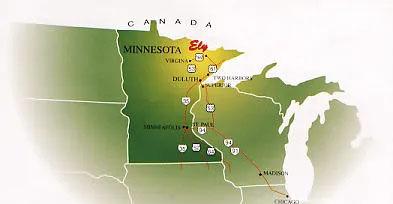 We are situated on the very edge of Minnesota's famous BWCA. This area is joined with Ontario's Quetico Park to form a unique wilderness area of more than two million acres that is famous for its countless connected waterways. You will find the lakes and forests just as the French Voyageurs did on their travels here hundreds of years ago.
LaTourell's unequaled location gives our guests the best of access into the heart of this magnificent area. Our facilities on Moose Lake are located approximately 23 miles northeast of Ely at the actual end of the road. We are the closest resort and outfitter to the BWCA, Quetico Park, and Basswood Lake. From LaTourell's you have the easiest and widest variety of options to experience the spectacular fishing, abundant wildlife, and beautiful scenery the area has to offer.
Directions
We're located at 14793 Moose Lake Rd which is approximately 18 miles NE of Ely. The GPS co-ordinates of 47 59 11.92" N 91-30 01.01" W. Once arriving in Ely take the main street of Ely (Sheridan Street) NE out of town. This is Highway 169, which will become County Road 18, better known as the Fernberg Road. Keep driving to the NE approximately 18 miles until you come to Moose Lake Road, where you will also see our LaTourell's sign. Take a left onto the Moose Lake Road and follow this road approximately 3 miles to the end of the road where you will find our signs welcoming you. LaTourell's Moose Lake Resort and Outfitters will be on your left. The road stops here...and your wilderness experience begins!